JosephJoseph: Modern & Multi-Functional Tools for the Kitchen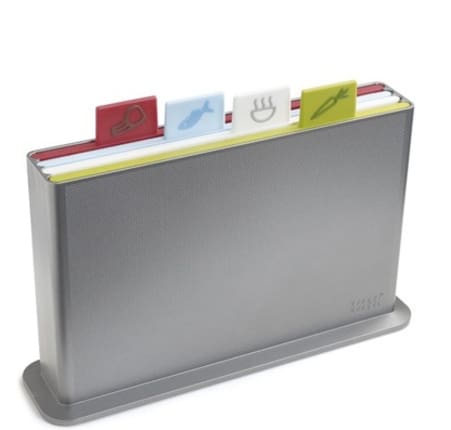 We've loved JosephJoseph since they first hit the scene in the early 2000's. This family run company continues to delight us with a new line of stylish and innovative tools guaranteed to make working in the kitchen a little more pleasant.
Started by twin Brothers Richard and Antony Joseph, JosephJoseph has become a quick favorite for people with modern kitchens since they first hit the scene in 2003. Bringing together the two founders' backgrounds in design and business, this fast-growing company has gained instant popularity, thanks to their wide assortment of utensils that provide simple solutions for the kitchen that still look good sitting on the counter top.
We've featured some of our favortes of JosephJoseph before, but having just toured their booth at this year's New York International Gift Fair, I thought I'd show you what's new from this cool home wares company.
Images:
1. IndexAdvance, $65
In the next generation of their award winning chopping board system, IndexAdvance helps reduce cross contamination with bright color-coded chopping boards that slide into a sleek and simple storage case.
2. Grip Tray, $25
This non-slip tray is designed with a high-grip surface with moulded rubber studs for safely transporting glassware and dishes from one room to the next.
3. Cut & Carve Plus, $18
This updated version of the already popular multi-functional chopping board now features non-slip feet and soft-grip technology in addition to the angled cutting surface for collecting food or drainage while you work.
4. Workstop Savers, $25
These graphic multi-functional boards make great solutions for all kinds of projects. Heat and stain resistant, they are available in a wide range of colors and make for a perfect cutting board or trivet.
5. Chop2PotPlus, $16
This update of another already popular product still maintains its durability and useful folding feature for discarding chopped food, but now is designed with rubber feet and soft-grip technology.
To see more, visit JosephJoseph.com