Sprouts Farmers Market: Farm Fresh Produce For Less Store Profile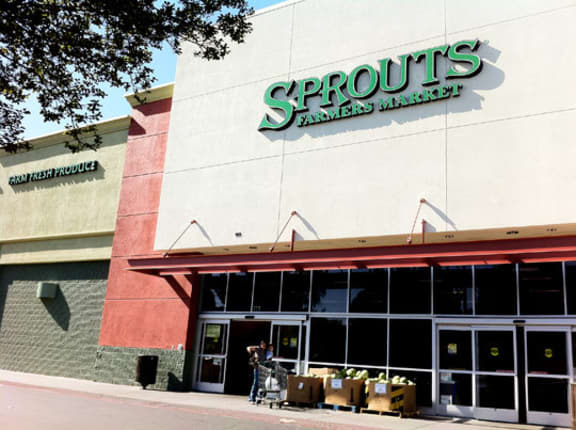 If you live in the Southwest or California, you may have heard whispers about a new kind of grocery store starting to pop up next door to your old one. One where farm-fresh, organic produce can be found any day of the week and where farm-raised beef is actually an affordable option. This is Sprouts Farmers Market. Their mission: "Helping America eat healthier, live longer, and spend less."
I hadn't heard of Sprouts until moving to California a few months ago and our soon-to-be landlord mentioned this "great nearby store with all sorts of fresh produce" as a selling point on the apartment. Better and more affordable than Whole Foods, he said. I was immediately intrigued.
My initial impression, based on the company website and my first steps inside the store, was that Sprouts is aiming for something between Trader Joe's and Whole Foods. You get the close-knit community feeling and the prices of Trader Joe's with the quality standards of Whole Foods. Their website is full of animated pictures of idyllic farm life: hopping chickens, baskets of produce, even a red barn with a grain silo. The store is laid out in such a way that you can meander through the aisles, perusing the meats and sniffing containers of berries.
But this is where things started to break down for me.
I hit the produce section first, and was both puzzled and amazed to see out-of-season raspberries and imported coconuts alongside the first strawberries and late-season kale. Looking closer, I noticed that about half the produce seems to be imported from Mexico. The remainder are simply labelled "from the US" without indication of a farm or at least a state of origin. I expected that at least the locally-sourced produce would be clearly marked. (This is California, after all. It's not that hard to find local produce.)
The meat section held a similar story. There were plenty of packages emblazoned with "free-range" or "organic," but no information about where, precisely, that meat came from. Some of the meats from outside packagers had source information on their labels, but it wasn't clear whether the address was the farm itself, the distributer, or the processing plant.
I know I'm being a bit picky. And I'm not normally a stickler for needing to know the exact plot number and soil composition of every strawberry I eat. But for a grocery store that is marketing itself on "farm fresh produce" and staking its reputation on quality products, I would like something more. To me, produce from Mexico is no longer "farm fresh" and I'm not going to take it on faith that this chicken is free-range until I'm given a little more context.
Sprouts does get a few things right. Their bulk bin section is diverse and extensive. I'm very happy to have a reliable source for chia seeds and short-grain brown rice. Their dairy section also has an excellent selection of local milk and other dairy. The store also carries an impressive array of vitamins and supplements.
Their section for basic grocery items like salt, canned tomatoes, and juice was small but well-edited. You could get all of your grocery shopping done here. I was particularly excited to find a nice selection of Indian ingredients and grains - maybe I can finally make homemade dosa!
Sprouts also comes through on the prices. A half gallon of local milk was a very reasonable $2.50, organic oranges were $.88, and grass-fed chuck roast was $3.99 per pound. For the most part, the prices felt somewhat above what you'd pay for the conventional item in a regular grocery store, but much more affordable than a gourmet grocery store.
Overall I feel like Sprouts has potential, but it's not quite there yet. Right now, I feel like I'm being asked to believe in an image of a green, health-conscious store but without the substance to back it up. Giving the source information and making a more concerted effort to stock actual local produce would go a long way to convincing me to shop there more regularly.
I'll definitely keep an eye on them as they continue to put up new stores and grow as a company. My fingers are crossed that they work out the kinks.
Have you shopped at Sprouts? What do you think of the store?
(Images: Emma Christensen)