The Element Portable Grill by Fuego: A Smaller, Lighter Gas Grill for Apartment-Dwellers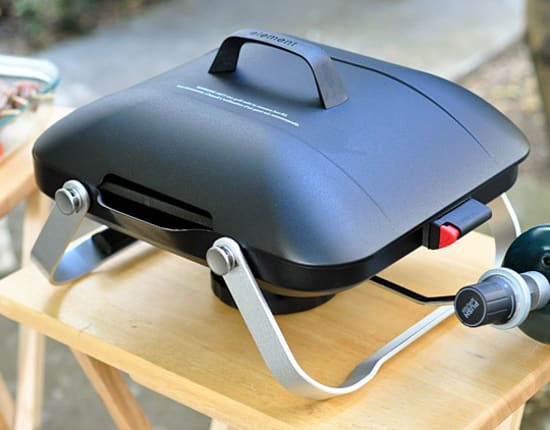 My husband and I, itinerant apartment dwellers and disdainers of stuff, have been inducted into the cult of the grill. We love it. We can't get enough. When discussing what to make for dinner, my husband inevitably asks, "Can we...grill?" Inevitably, I nod, already plotting our next charred experiment. And it's all thanks to this new, incredibly compact, and easily-carried Element grill from Fuego.
WHAT WE LOVED
Faith has already reviewed and fallen in love with Fuego's full-sized Element grill, so I had high expectations for its smaller cousin.
Just like the full-sized grill, the portable version has a sleek, visually-appealing design. Setting it up straight out of the box was a snap and this only got easier the more times I did it. The whole grill breaks down to make it easy to transport: the legs snap up to become the handles and the gas regulator pulls out. This regulator can be stored either inside the grill for short trips to your apartment parking lot or separately for longer trips when camping or tail-gating. The whole assembly can be held firmly in place (very firmly - see below) during transport by an elastic band.
I thought that the cooking grate was an excellent size at 159 square inches (roughly 14"x11.5"). It fits several burgers, a mass of kebabs, or a whole pound of asparagus in one shot without needing to revert to batches. A small drip tray unscrews from the bottom (and screws up again for transport), and does a nice job of catching grease and other bits that fall through the grate.
The grill takes either a 14.1 ounce or a 16.4 ounce canister of gas, which are both standard sizes for camping stoves and are easily found at any camping or sporting supply store. We got 2-3 grilling sessions out of a single canister (roughly 6 total hours of grilling). Also, the whole assembly starts with the push of a button, so there's no messing about with matches or lighters. The grill pulls 8,000 BTUs, heats up to maximum (over 500°F) in about 15 minutes, but then cools down in another 15 minutes or so - significant for a grill that you'll need to pack up and transport when you leave.
Our first meal from the grill - asparagus, kebabs, and flatbread - was a revelation. Where has this grill been my whole life?! The meat got those incredible crusty charred bits that we love, and the bread took on a crackling outer crust while staying perfectly chewy in the middle. So good. Our grilling obsession commenced.
WHAT WE'D LIKE TO SEE IMPROVED
The biggest problem that I encountered with the grill was a heating discrepancy between the outside edge, where the burner unit runs, and the very middle of the grill. You can see in the picture of steak kebabs above that the outside pieces got fantastic grill marks and a great sear, while the meat in the middle merely...cooked. The food in the middle definitely cooks through, but for some reason, the grill plate doesn't seem to be getting hot enough to really sear the food.
I played around with this a lot - tried pre-heating longer, lowering the temperature more before putting the food on, using a new gas canister, and so on. No matter what, there seemed to be this void in the very middle of the grill. I spoke with the manufacturers, but it was difficult to determine whether this was a user error (that is, my error as a grilling newbie), some sort of flaw with my actual unit, or a design quirk.
UPDATE! After using this grill for a year, I've gotten in the habit of using the outer ring as a high heat zone, good for searing, and the middle as a lower heat zone, good for letting steaks and burgers finish cooking. This works especially well when cooking small amounts of things for just my husband and myself for dinner.
As a work-around, I have gotten in the habit of moving food around on the grill more frequently in order to rotate the food to the hot spots. This seems to work just fine, but the whole situation just puzzles me. I really wish this grill had a second, inner burner like the full-sized model. I know this would add more weight to the grill's very svelte 14 pounds and use more gas, but I'd take it if the trade-off was more even cooking.
A few other minor nit-picks. That traveling strap is fierce! On the plus side, that grill is completely secure once the strap is in place. On the downside, getting it in place took all of my strength and getting it off again required several minutes of wrestling with the grill (much to the amusement of my husband). I think I'll save the strap for long trips and skip it when just going between our apartment and the parking lot.
The drip tray worked amazingly well, catching the majority of the grease that dripped from the skewers. Unfortunately, grease also dripped from the hole where the gas hooks up to the burner unit. A folded paper towel under the drip worked fine to catch the grease.
One last quick note about that gas hook-up (called the "regulator kit" in the grill's instructions). This is not a negative, but just something that confused me until I asked the manufacturer. When you insert the regulator kit into the burner unit, the instructions have you turn counter-clockwise until secure. The regulator kit on my unit felt very loose and wiggly, though I couldn't really pull it out and the grill seemed to function fine. The product engineer for Element said that this is actually correct and that they allow a little leeway to accommodate the different sized gas tanks and to relieve stress on the joining point.
FINAL VERDICT
I am seriously enjoying this grill. Once I knew about those hot spots, it was easy to work around them or even work with them (veggies in the middle to cook more slowly, meat on the outside to get nicely charred, etc.). I love that this grill is so compact and portable. I actually keep it stored below my sink!
For an apartment dweller, it's so nice to have a real grilling option. This Element grill would also be great for camping, picnics, tail-gating, or bringing to a grill-less friend's house for a change of scenery.
All in all, I give this grill two thumbs up. Now, what to grill for dinner...
• Read More! Element Portable Grill by Fuego
• Find It! Fuego Element Portable Gas Grill, $150 at Amazon (Also available at Home Depot and Costco)
Do you have an Element portable grill? How do you like it?
Related: No Yard? Ways to Still Enjoy Dinner Outside
Apartment Therapy Media makes every effort to test and review products fairly and transparently. The views expressed in this review are the personal views of the reviewer and this particular product review was not sponsored or paid for in any way by the manufacturer or an agent working on their behalf. However, the manufacturer did give us the product for testing and review purposes.
(Images: Emma Christensen)
Kitchn supports our readers with carefully chosen product recommendations to improve life at home. You support us through our independently chosen links, many of which earn us a commission.